Come Celebrate Pastor Bermie Dizon October 27th!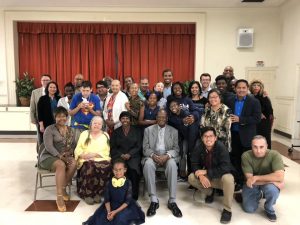 Pastor Bermie Dizon has been leading our church here in LA for almost two decades now. Faithful and caring Bermie has led the congregation of LA selflessly and have seen countless individuals grow up in his time in the church. As we know however, any good leader makes disciples, as we're told to do in the great commission. Over the past five years Bermie has trained his replacement; Anthony Walton, to take the reigns of pastor and lead the church. Having seen Anthony grow since the age of ten, Bermie has always kept his eyes out for individuals that could one day rise to the occasion of becoming a leader in the church. Anthony answered that calling and worked closely with Bermie through his undergraduate degree as well as his masters.
The twenty-eight year-old Anthony Walton credits just about everything he's learned to his mentor Pastor Bermie . Bermie, in his leadership will be giving Anthony the opportunity to grow in the capacity of being a full-time Senior Pastor of the LA congregation. Bermie however isn't retiring from the ministry. For more than thirty-five years, while in the ministry, Bermie has always pastored more than one church within GCI. Today, Bermie pastors both GCI Los Angeles as well as Grace Life which is located in Glendora, CA. Bermie will be relieving his duties as pastor October 27th and will continue to Pastor Grace Life as the full-time Pastor there.
We are all both sad to see our beloved Pastor leave us, but understand that in ministry a good Pastor trains individuals who will take on the ministry. Thankfully over the years we've had a Pastor who is grounded in the word and has a strong mind for theology as well as a passionate heart for our Lord Jesus Christ. We are all aware that It's God who we look to as our ultimate Pastor and that any human Pastor will point us to that reality. We're excited and happy to see the leadership that Anthony and his wife Brigina Walton will bring to us here in LA. We encourage anyone whose known Bermie or worked with him in any sort of Ministry capacity to come join on on the 27th to celebrate him and send him off as he continues to serve God!